Here's a fuzzy shot of me, reflected in the sliding glass door, in the Big Smiths I found in the basement while cleaning up for the furnace installers, who will be here in the 7 a.m. hour.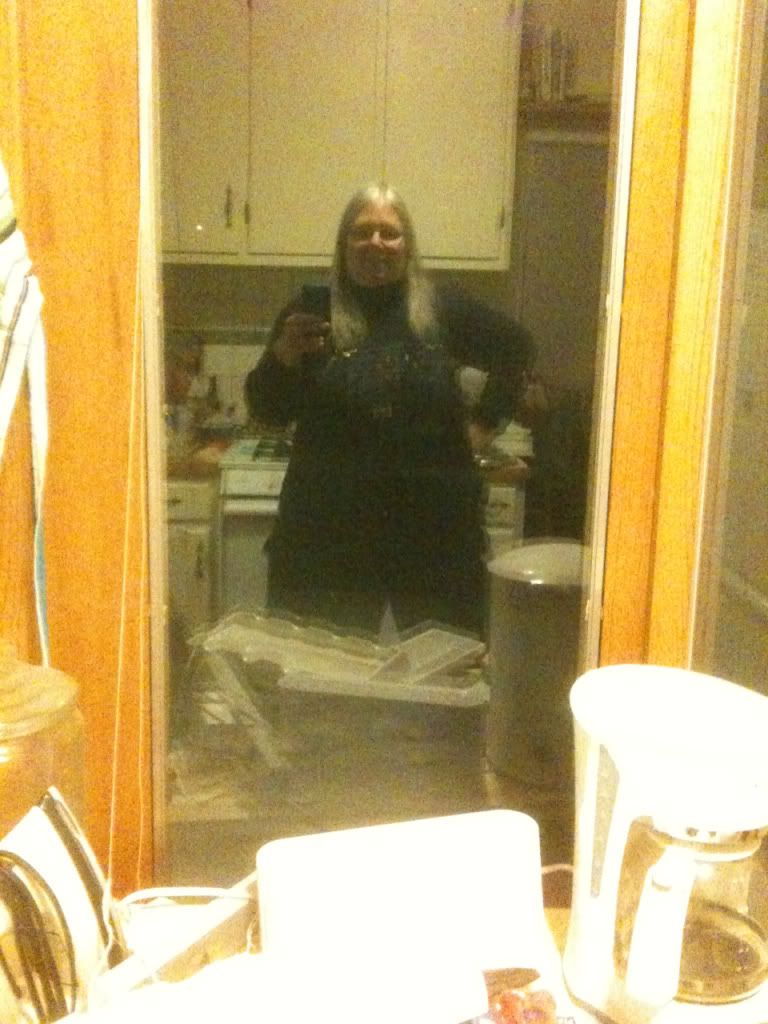 I'm almost ready for the furnace guys now. A load of laundry's still in the dryer---it's like I'm doing my houseguest ritual for them!---and I prob'bly ought to move the delicates on the petrified wood away from the thermostat, but other than that, I'm about good to go.

So much stuff in that basement. Dang. I threw out most of a suitcase of old shoes, ruined by flooding. Moved around some things. Added a number of items to my "yard sale" pile. Designated a few other things as maybe-try-t'-sell. Some eBay, maybe. Some Treasure Mart? Every couple of years I think I'll start selling things at Treasure Mart. Maybe this is the year.

I went over to show Bert & Susan my overalls. They were at the tail end of a visit from the poofy white Bichon who's Zach's playdate buddy. That is one soft doggie. After Bert left (shopping?) and the doggie went home, Susan showed me her progress on the quilt she's making me, and we talked a little troublesome family stuff.

Awful tired.

After the fridge's brush with death, I cleaned the bejeebus out of it. The failing appliance as upsetter of the apple cart? I think it was Mrs. Wilcox who taught us the idiom of upsetting the apple cart. She was my 4th grade teacher, Mrs. Wilcox. In the little trailer annex behind Marlatt Elementary.

Hope it's not as cold tonight. I've sure been working these space heaters.