I've spent most of this overcast damp spring-forward Sunday doing just about nothing, watching TV and dozing off, occasionally taking an Excedrin for a not-the-worst but bad-enough headache I think may have something to do with my sinuses but could mean I've gotta watch it with the chocolate. I've finally turned into a woman who wants chocolate. Last night I had several of these little delicious little squares



of Trader Joe's dark chocolate with other stuff. Their crisp-edged squareness is very appealing to me. Much more inviting than a cluster. I took my new container of the thingies to share at bowling, but they didn't all get shared. I may not dig the cliché part of being a woman who craves chocolate, but I'll take that over being a headache sufferer who has to watch it with that substance, if I may. Please.

Bowling was especially good this time. :)

Now it's almost dark on Sunday, and an hour later than it was at this time last week, and I'm a bit chagrinned I didn't get after the outta-control house today, in my obligation-free 24 hours. Seems like the headache isn't a good enough reason. And maybe it's not the only reason. Does it matter why? I don't know.


Here's a picture I came across on my computer at work on Friday: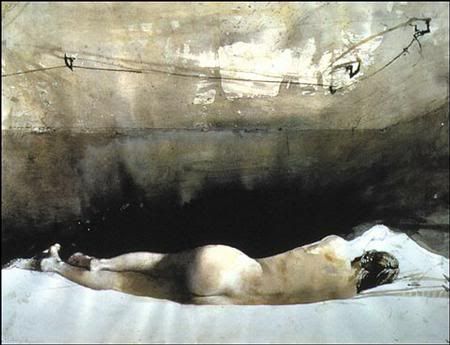 It's from Andrew Wyeth's Helga series; I had a print of it up in a few of my apartments in Baltimore. I got it cuz it was on deep discount at a poster store in a mall in Glen Burnie. Hard to imagine why I was in the mall in Glen Burnie, but there I was, and there was Helga, mounted on foam and surrounded by a cheap brown frame, done doing her display duty, I supposed, and I took her home for all of however-many dollars, on a whim. Then I had the print on the wall to look at for many, many moments thereafter.

We'd had prints of "Christina's World," and a couple of other stark black-and-white-ish Wyeths, too, in the homes of my family of origin. I was told of what Christina was doing in that painting, and why, at some early age. It was like in the movie Heidi, sort of, and it was troubling to me, all that paralysis, and Christina frozen for all time that way. I don't think I associated much about the feel or style of those family prints with the Helga, when I got it or even after I'd had it in my place for a while.

Living with her, initially I was drawn to the curve of Helga's hip, the flesh of her ass, imagining what they would feel like to my palm and fingers, in slow motion. I could imagine, and I liked to. I also looked at her feet, feeling what it would feel like to have my own feet---legs, ankles, calves---situated that way. And I looked at her hair a lot. The other Helgas have distinctive hair, as do other paintings of Andrew's, I think you might agree. The longer I had the print, though, the more my attention was drawn to the background. The wall. That watery inky dark. And that strange wiry thread with the hooky thing and the shape like a safety pin. I couldn't stop looking at the safety pin, seeing a safety pin. After a while Helga was just down there as kind of a base to those strange scratchy and runny shapes and that brown gray greenish yellowed and black-black-mass depiction of what lay behind it all. And that safety pin.