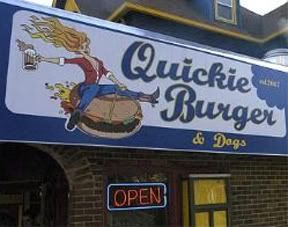 Michigan Daily:
"Our whole reason is to give people an additional reason to come to Quickie Burger," [owner Kerope Arman] said.

Arman added that he hoped serving alcohol would attract more of the city's permanent residents, which he said was "the clientele we're really interested in."

Though about 30 percent of Quickie Burger's business is currently done between 2 and 4 a.m., Arman said his restaurant's status as a popular post-bar spot wouldn't change with the new liquor license. The law mandates that alcohol cannot be sold after 2 a.m. in Ann Arbor.

Ann Arbor Chronicle:
After the approval, owner Kerope Arman said he was happy with the support from council, and described the role the license would play in a Quickie Burger family dining experience: with a meal, a mom can enjoy a glass of wine, a dad can enjoy a beer, and kids can enjoy one of the recently introduced milkshakes.

So far I've seen no mention that we can now stop pretending it's root beer sloshing out of the burger-riding woman's mug. But maybe they'll be re-doing the sign, if that's Mom, so she'll be holding her glass of wine.