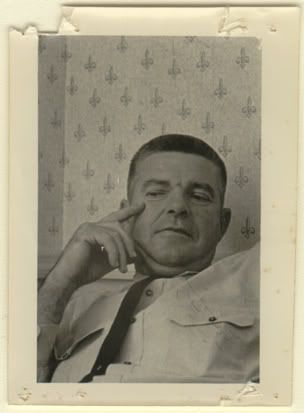 Yes, it's dead relative time again, only I'm not so sure Uncle Orville is dead. Orville remarried after my great aunt Dora died, and his new wife didn't want him to stay in touch with any of her family. He was a campus cop at Emporia State, and probably 20+ years younger than Dora, the strict old school teacher. (Speculation about their relationship still fascinates me.) Orville & Dora had a zillion outdoor cats running around the place, often under the porch where the lattice work was---cats were pretty mysterious to me back then. They also had a refrigerator with the freezer on the bottom, opened by stepping on a pedal. Very cool.

Orville had a John Deere tractor my brother loved to ride on, and so I did, too, but even more I loved his dog, Rover, and that Rover's name was Rover. And I loved the funny (and a little scary) long low barn with straw in it. And the fact that every time he came to see us in Manhattan he gave me & my brother each a JFK half dollar. Oh---and that he taught me how to do those sliding-number or -letter puzzles he loved so well. You know the kind. Slide the boxes around to restore order, or make a picture, or achieve some other goal (though Orville's were always letters or numbers, usually with a lot of blocks/tiles---like, 30ish or so---and well made of plastic, with tight action, and smoothly lubed). (This page has some sliding block puzzle action, if you've got the plug-in.) Having been paying attention to what was stymieing me, Uncle O showed me a trick, and I got it, and that was great. For all the thinky types in our clan, it's odd how rare that sort of moment was in my experience. An affable good guy, he was and maybe is!

At one point I tried to convince my friends that Orville's last name was also Orville, and that, in fact, his middle name was Orville, too. Alas, it was not true. Orville was (or is) a Swender.