May 12th, 2009
Our first game was last week. Tonight we play the team from a halfway house, whom we'll face twice this season. My teammates anticipate that we stand a chance at being competitive, given their experience with this team in the past. But the cigarette smoke may get a little thick, if our bench is downwind of theirs.
- + - + -
My baby eagle is still in the nest, but has been testing its wings enough to flap and lift off an inch or two, in a hopping kind of thing. Another nest some of the watchers of this one follow had a baby die a couple of days ago.
Our neighborhood ducks were hanging out in my yard this morning. Maybe they like the tall grass. Last night I saw the male by himself again, as he had been when last I saw him, Sunday I think. I actually checked my
basement
to see if his mate had found her way down there.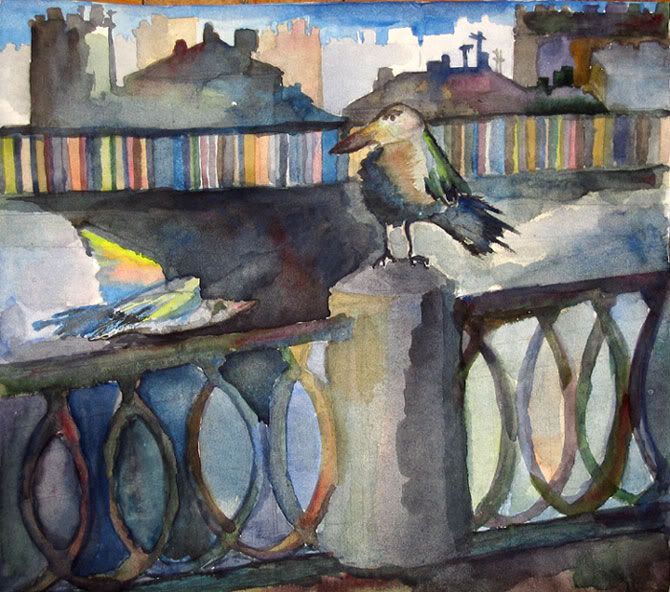 (watercolor by
koshaky)
One of the things in that box I went through this weekend was the visitor log---a wood-covered guest book---that my father's parents used between 1945 and 1950. People coming to see them would sign it, with the date, and maybe write a line or two about what they all had for supper, or how they enjoyed their stay. A few of the visitors who paid multiple visits had the last name "Bald Eagle."
Tucked between the pages, in addition to a snapshot of my dad, were two calling cards, or cards like you stick in a graduation announcement, from someone with a fancy French name and someone whose last name was "Dog Eagle." Or whose middle name was "Dog" and whose last name was "Eagle." A female, I took it from the first name, which I forget.
I have a softball game tonight. I'm playing softball this year, through the county Rec & Ed. It's a casual team, but we don't do the off-the-shoulder shirt Susan Sarandon's using in the batting cage in this picture.
I was vaguely aiming to clean off my desk tonight, in preparation for my new computer, but that's gonna have to happen later. Too sore. And anyway, it appears to be getting late.
One woman on my team, who has great shoulder tattoo action under that shirt she was wearing tonight, has the very same glove I do, passed down from her mother. I bought mine about 10 years ago, but it's only now getting properly broken in. It's the Ozzie Smith model. It's a Rawlings, but it doesn't have the cool basketweave pocket. I went for it for the Ozzie signature. He was a Nat'l League guy, and I'm mostly an American League girl, but he did those crazy backflips in the infield during warm-ups. Not to mention all the Gold Gloves. And such a good-looking fella.
onstar
and her sig. oth. came to the game, camping out just outside the right field foul line.
I shall now eat of the holy ibuprofen and relax upon the stuffy chair.
We tied the newly sober. 7 to 7, a.k.a. 7 up. As several present observed, everybody won.