Oh, hello, everybody. Anybody. (I tend to assume hardly anyone, if anyone, 'zout there on Saturday. Out this there. Cuz they're all out that there, right?)
shmizla
is
sharing music
. I'm trying to be patient with my dial-up download.
A cloud's just come over, and now I can see that there are a few other clouds up there. It looks just fine outside, but I can't say as how it's irresistably inviting, as I'm having no trouble resisting.
I must remind myself how glad I am to be able to be swamped by emotion again. I know as well as I know anything that this state is better than the other. Celebrate it, Lisa. Don't worry about how much you find yourself talking to yourself.
Finally, O's first track is ready for me to hear, and I can stop playing the wrenching "Frankenstein" & be (little doubt) otherwise wrenched....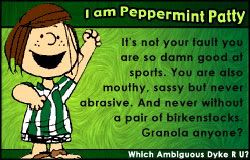 I'm Patty, which ambiguous dyke are you? Quiz by Turi.
Yeah, right--- Patty's ambiguous. And I'm the manipulator, and Patti's a pool hustler, and (shame shame
shame
) you can't see Katie's hips.