I scanned some old pictures of now-dead people from my family the other day---thought I'd post a few here. I'm just going to jump right in with one of my favorites, and my favorite image of my grandmother Merl. The thing about Merl is that she wasn't at all playful when I knew her. I used to think she was just ornery cuz she was old, but then I came to think she was just ornery cuz she was ornery. But she sure looks playful in this shot: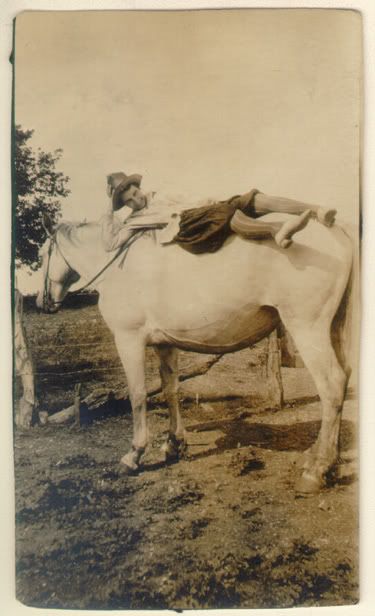 She was one of nine children, born in rural Kansas in January of 1900 (so it was always easy to figure out how old she was). She's the only grandparent I ever knew---my father's mother; the others were dead when I was born. She had a scar on her forehead from when her brother Fletcher dropped an iron off the roof (of the barn?) onto her head. The other sibs were Gale, Fern, Zoe, Helen(? is that right?), Marea & Rea (fraternal twins), and the baby Nell---who died youngest, in her 60s, after an unhappy marriage.

Anyway, this horse picture cracks me up. I found it after my mother died; we never regarded it as a family, or with her, so it seems especially archeological, and surprising, which sorta makes up for never hearing her tell of the horse, or the day the postcard photographer was there, or such. I love her stockings, and her precariousness, and how she's holding onto her hat.

I liked Merl's stories of childhood in the big family, and for the most part it wasn't too hard to put up with her being "cross" with us, as she would have called it. When I knew her she was a housemother at KU (most proudly at GSP, or Gertrude Sellards Pearson Scholarship Hall), then retired. She had a 2nd-storey apartment near Mass when I was a kid (on Kentucky, I think), then moved to a duplex on Centennial, over by the Bucky Burger (near Rusty's & the Yuk Up and the Yuk Down), and then lived her last few years at the Presbyterian Manor. She died in 1993.

Below is a snapshot I like of Merl's sister Marea, who lived in a little house in Topeka with her former ("recovering") alcoholic hubby. A little web snooping suggests that this picture was taken in Topeka, which had a Kaw Theater---next to a Hudson dealer, it looks like, in 1948 (when that B-movie was released):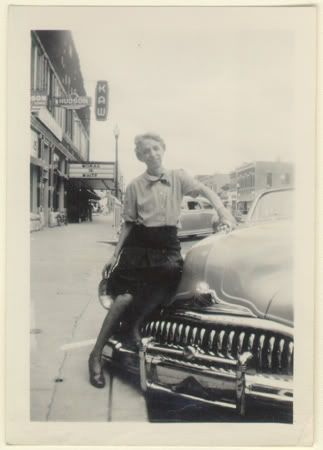 Aunt Marea always seemed to be ready to have a good laugh. I didn't know her terribly well, but she had that good vibe. Uncle Johnny was fun with kids, too; I only know he had been a problem drinker because of the way other adults wouldn't agree with me, and got all serious & vaguely disapproving, when I said I liked him, and eventually I got that much out of them.

Okay, here's the other one with Merl on that big, sturdy horse. Don't know if those are sibs with her or not.