So I came across the picture whence was taken my "poolside" icon & discovered that it was actually in color. The B/W version was from a baby picture contest at my work---everybody's photo was made B/W to make it harder to guess ages. I'm going to keep the B/W icon version, but the color one's on my info page now.

I'd come to think I was grimacing in that shot, but I now think I was smiling, or trying to, but just had the sun in my eyes: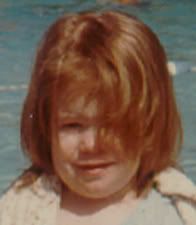 I've never liked having the sun in my eyes.

New default, until I find a better wintery one, will be me w/
squirrelykat's Quincy's sibling kitty, adopted by somebody else.